EXHIBITION 03 • [BOOKMARK MAGAZINE] ISSUE05 BKKABF CO-OP
A mini exhibition by [BOOKMARK MAGAZINE] as part of BKKABF CO-OP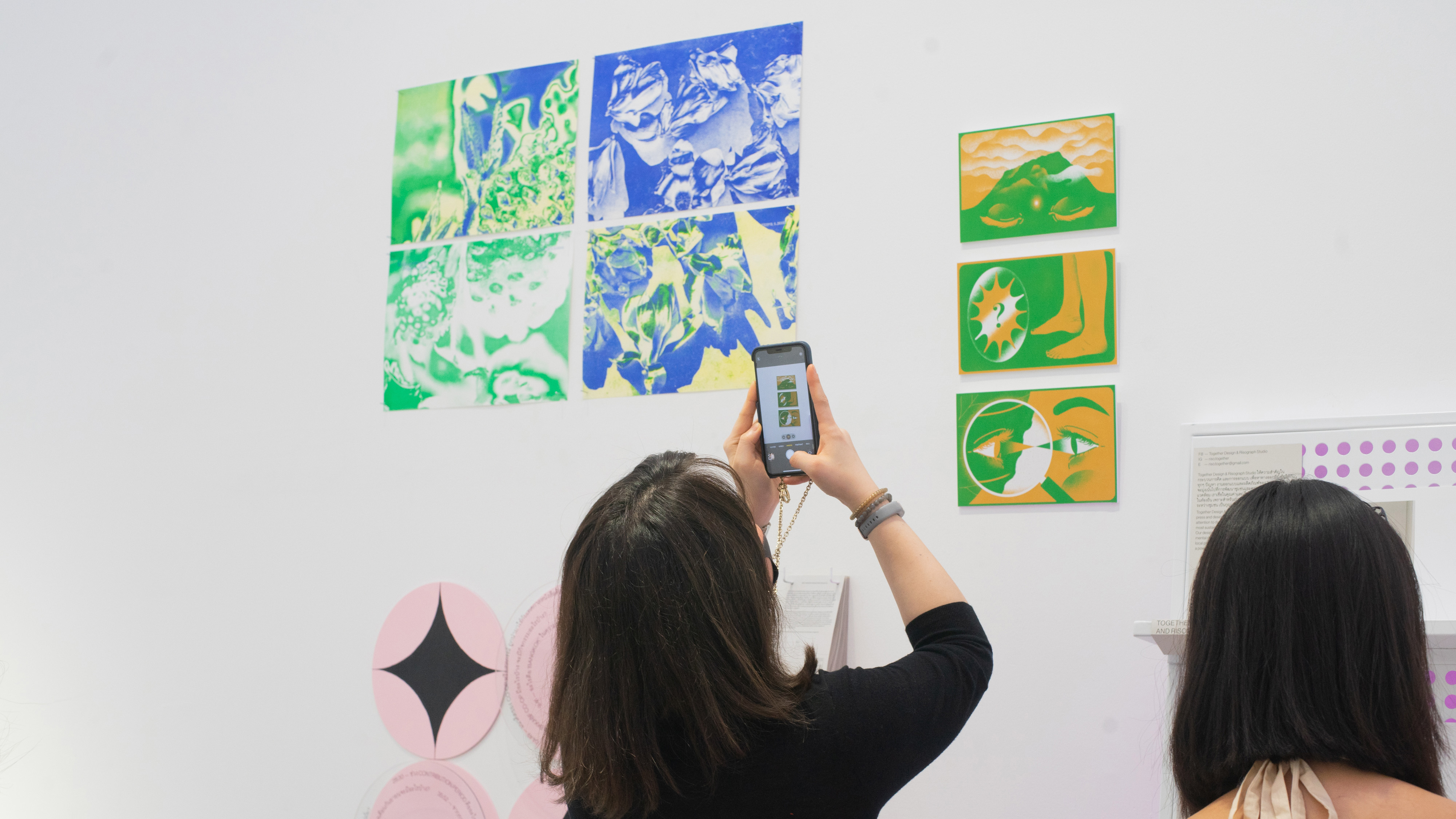 [BOOKMARK MAGAZINE] ISSUE 05 is a mini exhibition on-site at BOOKSHOP LIBRARY in parallel to a series of an on-line article on bookshoplibrary.com. The series of an online article contains with four conversations from BKKABF CO-OP members who join this year BKKABF that is held in an online form. The conversations revolved around the issues about independent publishing, the change in format from a physical art book fair to an online platform, the growth of independent publishing and publisher community and contemporary topics in an interest of contributors. The exhibition presents the conversations by taking out some texts, images and sound from the articles into a physical space.

This exhibition is part of an BKKABF Online Festival. 

Read [BOOKMARK MAGAZINE] ISSUE 05:
[BOOKMARK MAGAZINE] ISSUE 05.1 — FROM BANGKOK ART BOOK FAIR TO BKKABF CO-OP: WHERE IS THE ART BOOK FAIR AND WHAT IS A CO-OP?
Contributors—Natedow Ongartthaworn, Sankrit Kulmanochawong, Nuttha Isaraphithakkul, STUDIO 150 (Pat Laddaphan and Piyakorn Chaiverapundech)

[BOOKMARK MAGAZINE] ISSUE 05.2 — RISO TOWN: THE SENSE OF PLACE OF THE RISOGRAPH STUDIOS
Contributors—RISO BKK (Witti Studio, Haptic Editions, Smoove, Poop Press, Together Design and Risograph Studio), หายหายและหลายๆ ใบ (Panjabhorn Chaichompoo)

[BOOKMARK MAGAZINE] ISSUE 05.3 — DEAR READER, PLEASE READ: SHALL WE READ FURTHER?
Contributors—Further Reading (Januar Rianto), Waterproof Exhibitions (Rawiruj Suradin, Napisa Leelasuphapong)

[BOOKMARK MAGAZINE] ISSUE 05.4 — SENSE AND SENSIBILITY: ON CONTEMPORARY MIGRATING AND FORAGING
Contributors—Dohee Kwon, Panita S.

[BOOKMARK MAGAZINE] ISSUE 05 เป็นนิทรรศการขนาดเล็กบนพื้นที่จริง ที่ BOOKSHOP LIBRARY เกิดขึ้นคู่ขนานกับซีรีส์ของบทความออนไลน์บนเว็บไซต์ bookshoplibrary.com บทความชุดนี้ประกอบไปด้วยบทสนทนาสี่เรื่องจากสมาชิก BKKABF CO-OP ผู้ซึ่งเข้าร่วมกับเทศกาลหนังสือศิลปะบางกอกอาร์ตบุ๊กแฟร์ (BKKABF) ที่ปีนี้จัดขึ้นในรูปแบบออนไลน์ บทสนทนาพูดถึงประเด็นรอบๆ เรื่องของสิ่งพิมพ์อิสระ การเปลี่ยนรูปแบบของตลาดขายหนังสือในพื้นที่จริงสู่แพลทฟอร์มออนไลน์ การเติบโตของชุมชนสิ่งพิมพ์อิสระและสำนักพิมพ์อิสระ และเรื่องราวร่วมสมัยที่อยู่ในความสนใจของผู้เข้าร่วม ตัวนิทรรศการนำเสนอบทสนทนาโดยดึงเอาข้อความ รูปภาพ และเสียง จากบทความเข้ามาไว้ในพื้นที่จริง
นิทรรศการนี้เป็นส่วนหนึ่งของ BKKABF CO-OP Online Festival
อ่าน [BOOKMARK MAGAZINE] ISSUE 05:
[BOOKMARK MAGAZINE] ISSUE 05.1 — FROM BANGKOK ART BOOK FAIR TO BKKABF CO-OP: WHERE IS THE ART BOOK FAIR AND WHAT IS A CO-OP?
ผู้เข้าร่วมวงสนทนา—เนตรดาว องอาจถาวร, สัญกฤต กุลมาโนชวงศ์, ณัฐา อิสระพิทักษ์กุล, STUDIO 150 (พัชร ลัดดาพันธ์ และ ปิยกรณ์ ชัยวีรพันธ์เดช)
[BOOKMARK MAGAZINE] ISSUE 05.2 — RISO TOWN: THE SENSE OF PLACE OF THE RISOGRAPH STUDIOS
ผู้เข้าร่วมวงสนทนา—ริโซ่ บางกอก (Witti Studio, Haptic Editions, Smoove, Poop Press, Together Design and Risograph Studio), ปัญจพร ไชยชมภู (หายหายและหลายๆ ใบ)
[BOOKMARK MAGAZINE] ISSUE 05.3 — DEAR READER, PLEASE READ: SHALL WE READ FURTHER?
ผู้เข้าร่วมวงสนทนา—Further Reading (จานัวร์ ริยันโต), Waterproof Exhibitions (รวิรุจ สุรดินทร์ และ นภิษา ลีละศุภพงษ์) 
[BOOKMARK MAGAZINE] ISSUE 05.4 — SENSE AND SENSIBILITY: ON CONTEMPORARY MIGRATING AND FORAGING
ผู้เข้าร่วมวงสนทนา—โดฮี ควอน, พนิตา แสงหิรัญวัฒนา